MMSA 1st Annual General Meeting
---
---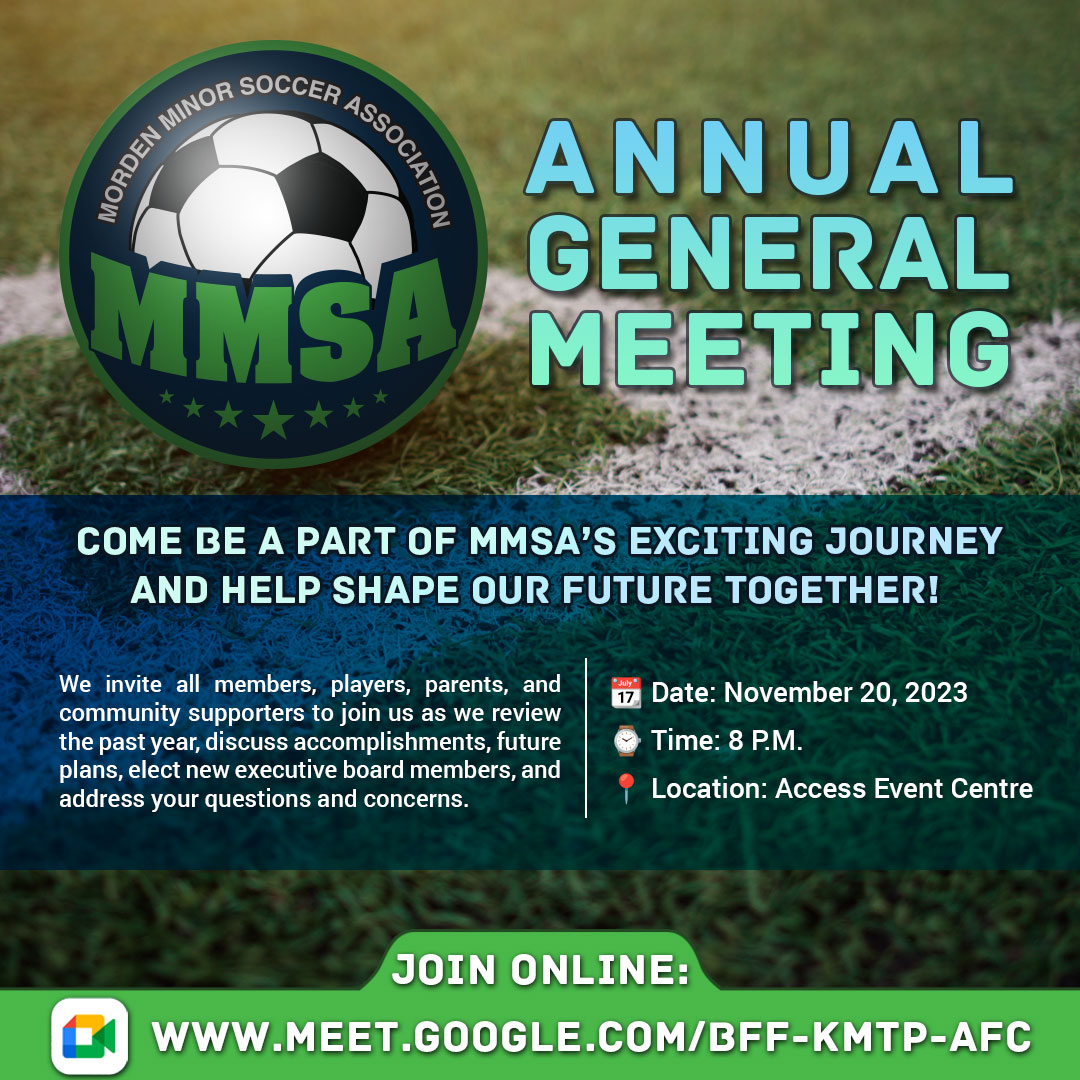 ---
Morden Minor Soccer Association's 1st Annual General Meeting
Be a part of shaping our community's soccer future, learn about exciting updates, and discover opportunities to get involved.
• Date: November 20, 2022
• Time: 8:00 PM
• Location: Access Event Centre
---
Morden Minor Soccer Association Open Coordinator Positions
We're actively seeking motivated members of the community to join us in several key positions within the Morden Minor Soccer Association. Find the role that suits you best:
Programs Coordinator: Plans and manages soccer programs including registering, organizing coaches, player placement, and facilities booking. This is a heavy-lifting role that involves orchestrating a variety of programs and their smooth operation.

Referee and Coach Coordinator: Develops coaches and referees with a focus on recruitment, retention, and quality improvement. Works in tandem with the program coordinator to ensure seamless organization and coordination.

Fundraising Coordinator: Organizes and manages fundraising activities supporting our association's goals and needs. This role is crucial for maintaining the association's financial health.

Events Coordinator: Plans and manages the Association events such as wind-up parties, fundraiser events, and other special events. A role that requires meticulous organization and event planning skills.

Social Media Coordinator: Manages the association's social media presence and communication with parents, the community, and other stakeholders. Ideal for those with a knack for digital communication and keeping stakeholders engaged.

Fields Coordinator: Takes responsibility for field bookings and venue supervision before, during, and after all programs. This role is essential for game execution.

Equipment Coordinator: Champions the purchase, maintenance, and distribution of the Association's equipment for all programs.
Join us! Be part of our team and contribute to our community's youth sports development.
Ready to make your mark? Apply for your preferred position at the upcoming AGM!
We look forward to meeting all prospective candidates. Let's shape the future of soccer together!
Mark your calendars! Be there on November 20, 8:00 pm at Access Event Centre.